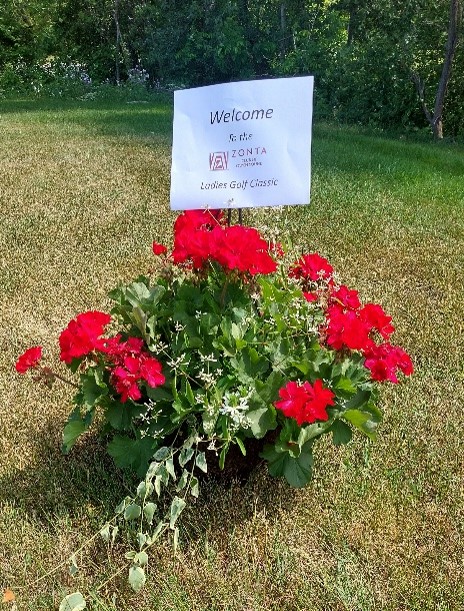 Congratulations to Coble Golf Course Members Linda Taylor, Jane Falls, Liz Gillies and Deborah Reesor on winning the Annual Ladies' Golf Classic presented by Zonta at Legacy Ridge last week.
Many clubs were represented, and their score for the 9-hole best ball scramble was 35.
Great game ladies! Way to support a great cause as well.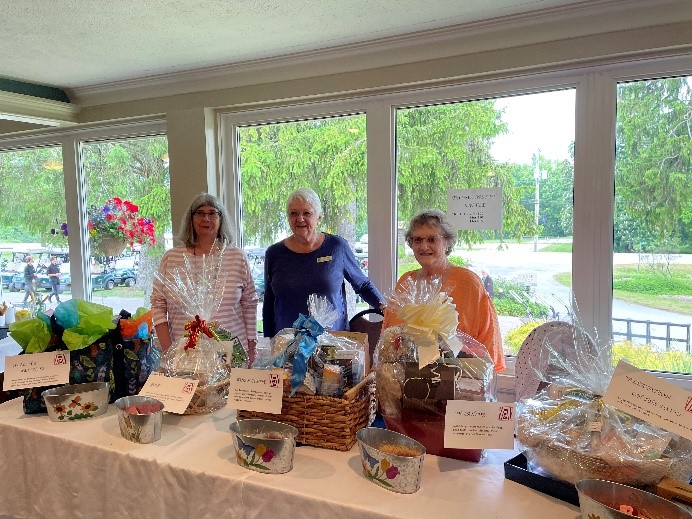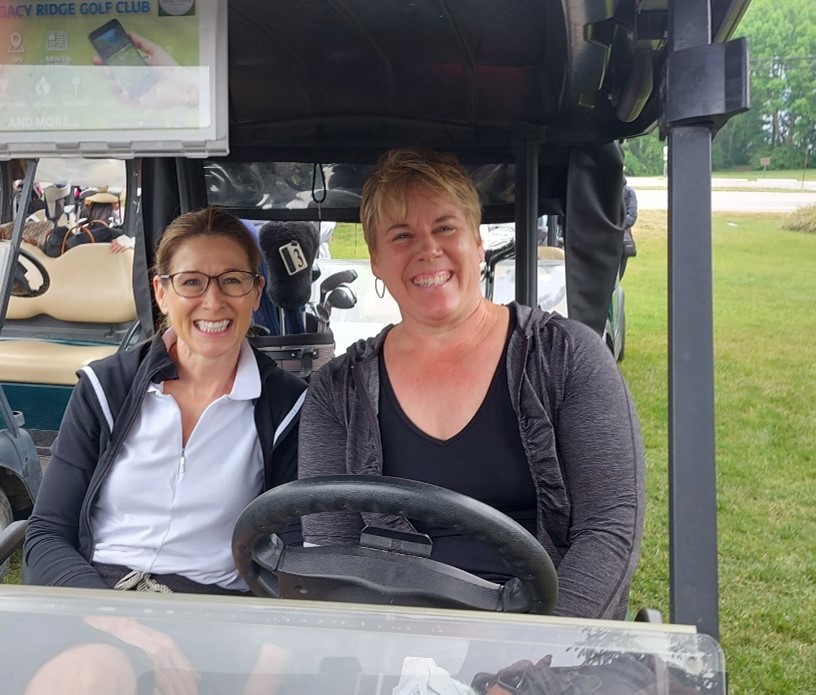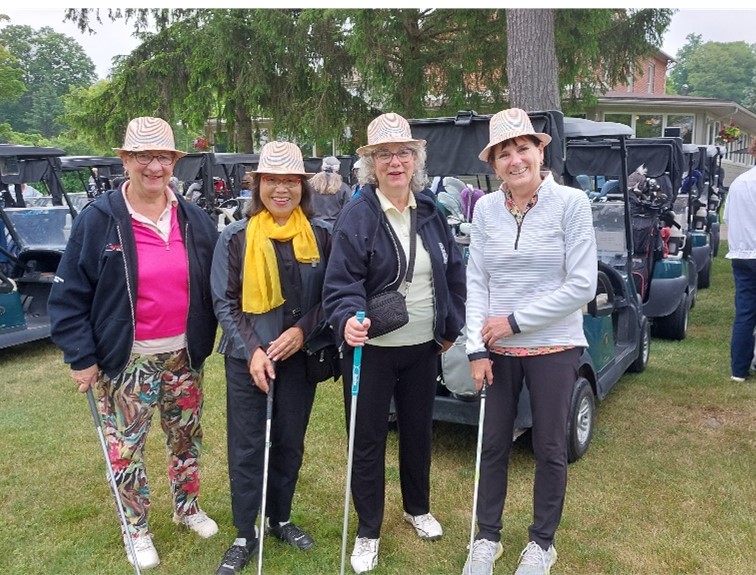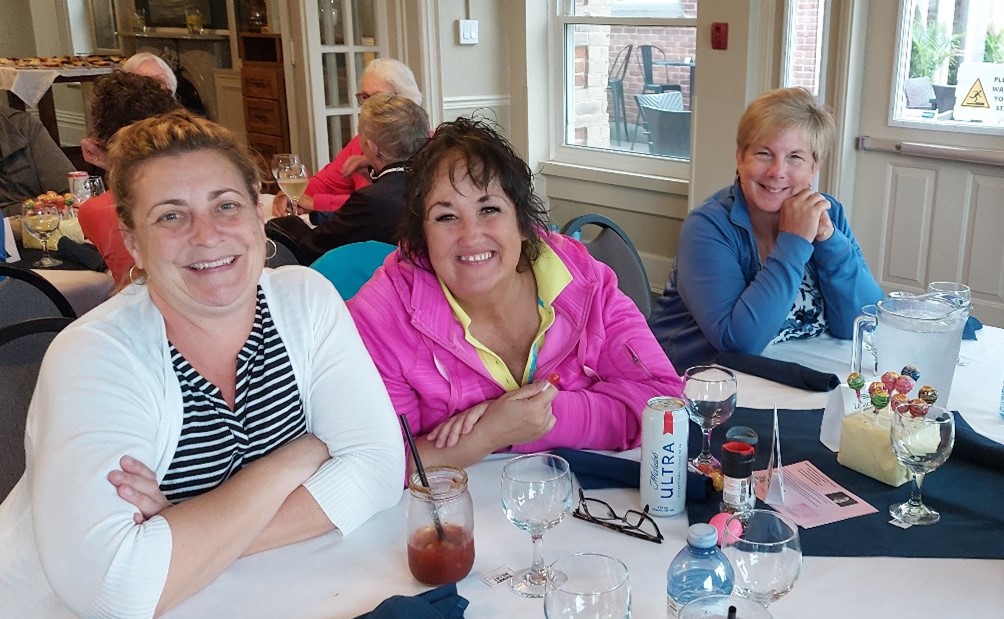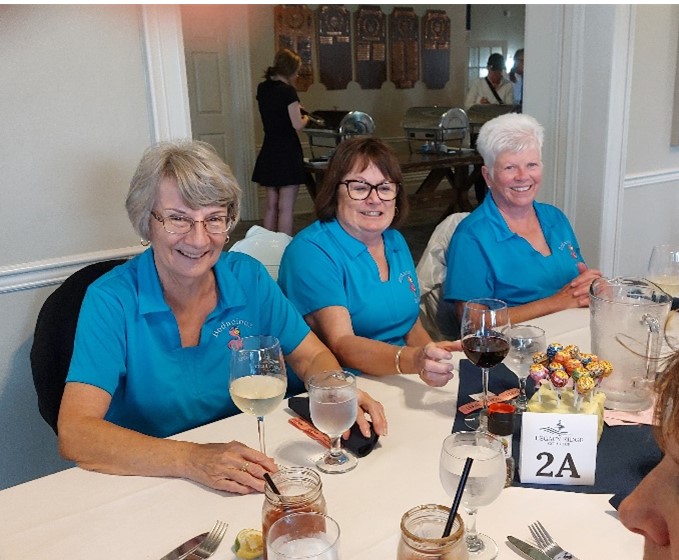 Thank you for your support. 
Save the Date – Thursday June 20, 2024 – Golf Classic
 Members attend the Spring Workshops
On March 25, 2023 members… Cindy Weir, Arlene Wright and Barb Fedy attended the District workshops in Guelph Ontario.
In the picture they are standing by the Poster for the International Zonta Conference to be held in Brisbane in 2024.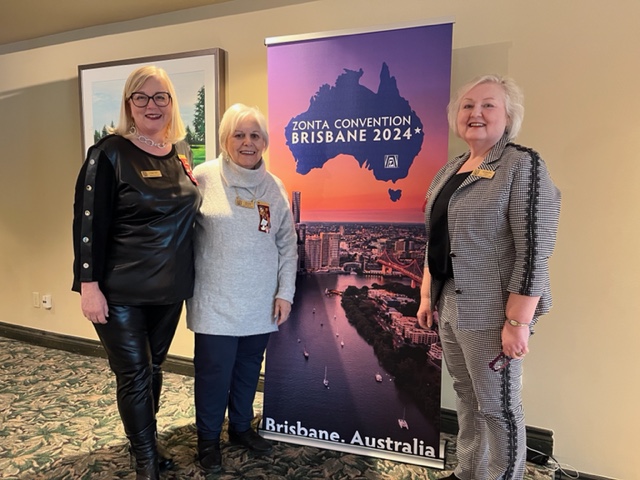 Zonta Raises their Flag at City Hall
Arlene Wright andd Judy Suke at the flag pole. 
On November 25, 2023, the members of Zonta Owen Sound and Area presented the Zonta Flag as part of the UNITE! Activism Campaign to End Violence against Women and Girls.
The honor of raising the flag at City Hall was given to Arlene Wright, Past-President and charter member of the Owen Sound Zonta Chapter, founded in 1986.  The members of the organization volunteer their time, talents and energy to local and international advocacy and service projects that are designed to advance the status of women worldwide.
On behalf of City Council, City Councilor Brock Hamley thanked the members of Zonta for their work in the community and stressed the need to continue their efforts.
John Farmer, City Councilor, and former coordinator for Violence Prevention Grey-Bruce spoke to the group about the need to end the violence that continues to be an obstacle to achieving equality, development, peace as well as to the fulfillment of women and girls' human rights.
Zonta Vice-President, Judy Suke, delivered a message emphasizing the importance of staying vigilant. According to UN Women, a survey done in 2021 revealed that, since the pandemic began, 45% of women reported that they or someone they know has experienced some form of violence; 7 in 10 women said they think that verbal or physical abuse by a partner has become more common; and 6 in 10 felt that sexual harassment in public spaces has worsened.
November 25, the International Day for the Elimination of Violence Against Women will mark the launch of the UNITE! Campaign – an initiative of 16 days of activism concluding on the International Human Rights Day, December 10. This campaign, led by the UN Secretary-General and UN Women since 2008, aims to prevent and eliminate violence against women and girls around the world, calling for global action to increase awareness, promote advocacy and create opportunities for discussion on challenges and solutions. This years' campaign will aim to mobilize all society to become activists for the prevention of violence against women, to stand in solidarity with women's rights activists and to support feminist movements around the world to resist the rollback on women's rights and calling for a world free from violence against women and girls.
Violence against women and girls (VAWG) is one of the most widespread, persistent and devastating human rights violations in our world today, yet it remains largely unreported due to the impunity, silence, stigma and shame surrounding it.
Our Zonta Flag is raised at City Hall to remind everyone that we all need to be aware and support efforts in our area to end the violence.
For more information on our local Zonta Chapter visit www.zontaowensound.ca
Your content goes here. Edit or remove this text inline or in the module Content settings. You can also style every aspect of this content in the module Design settings and even apply custom CSS to this text in the module Advanced settings.
Celebrating Zonta International 103rd Anniversary November 16,  2022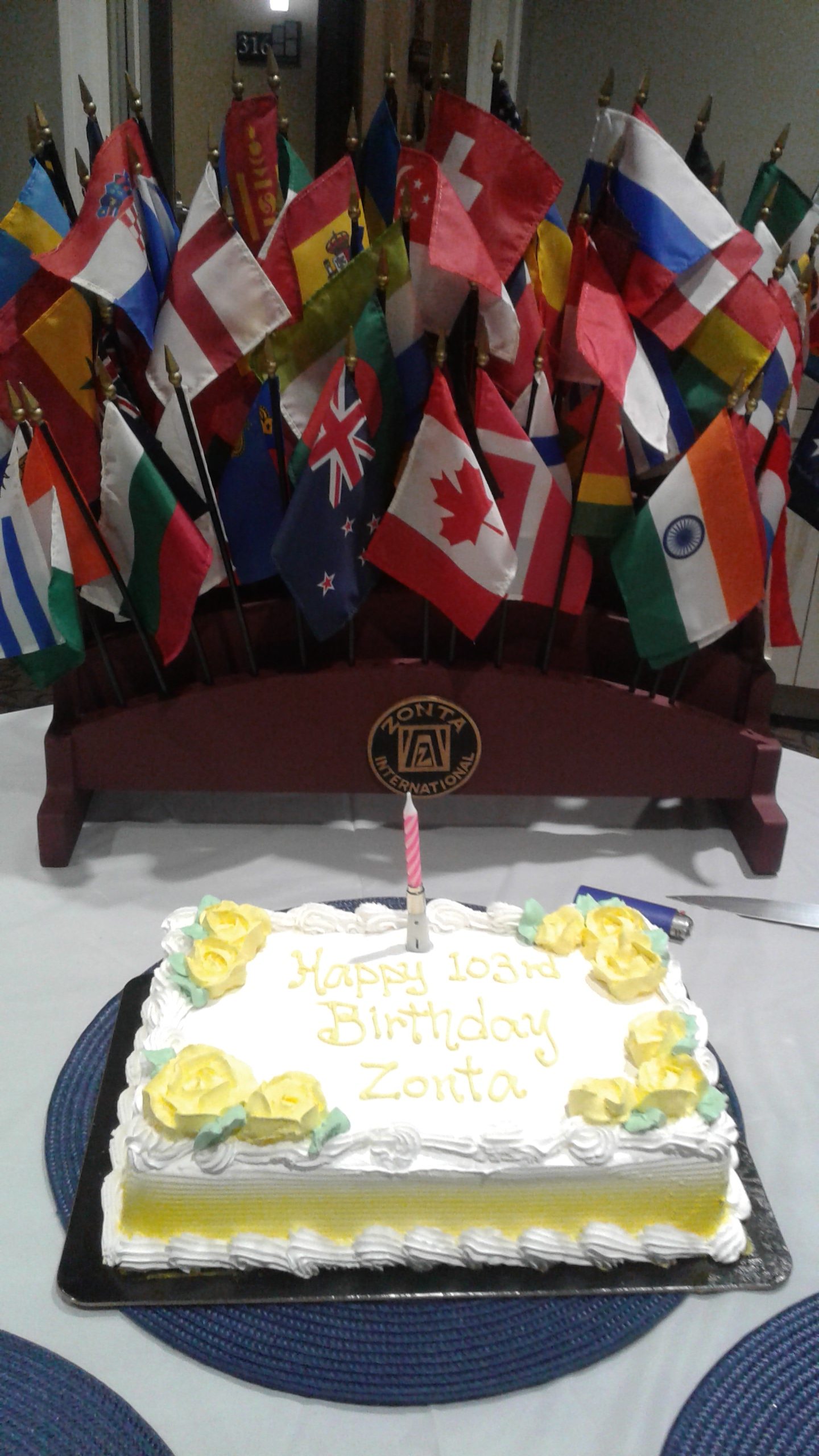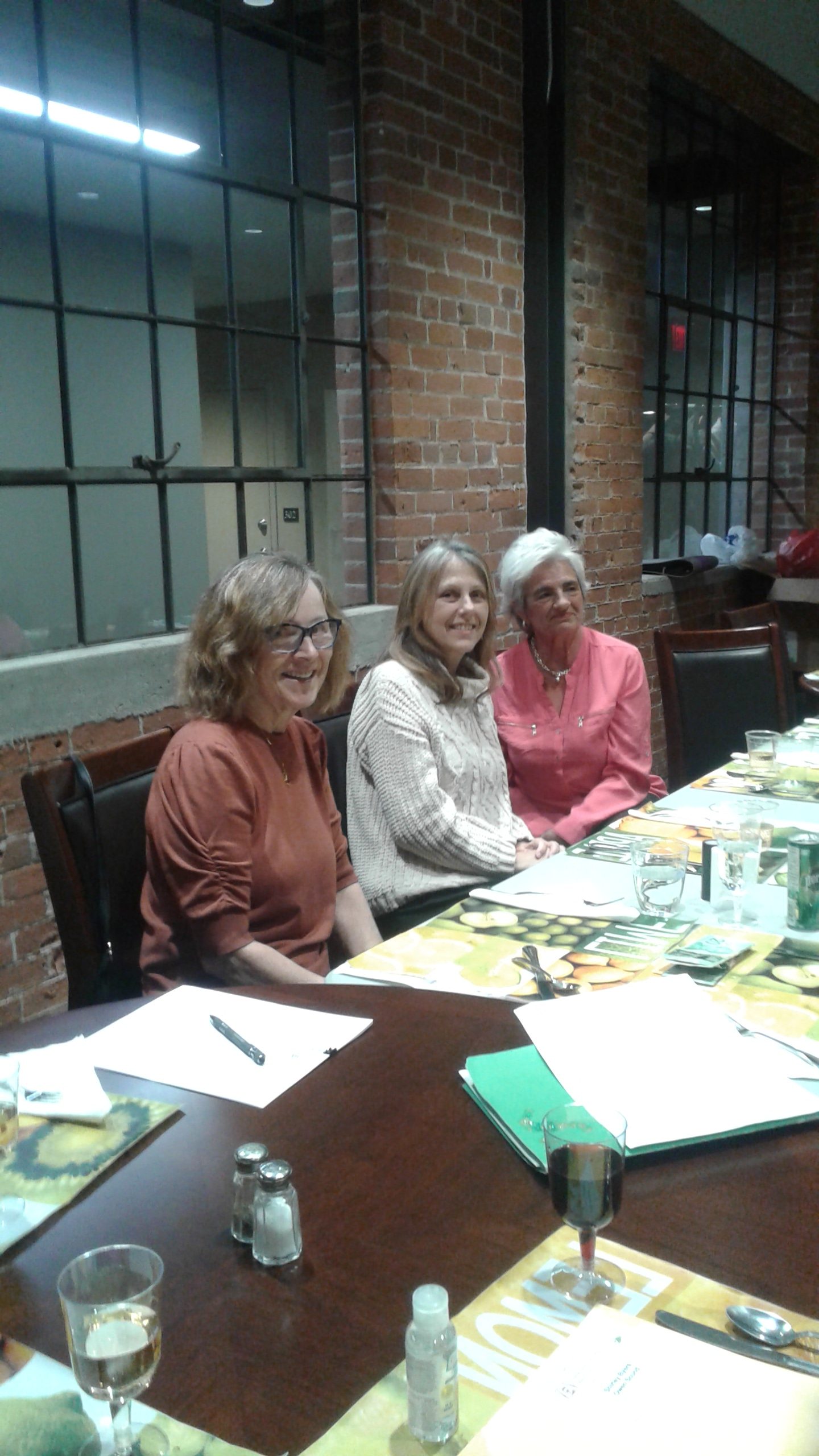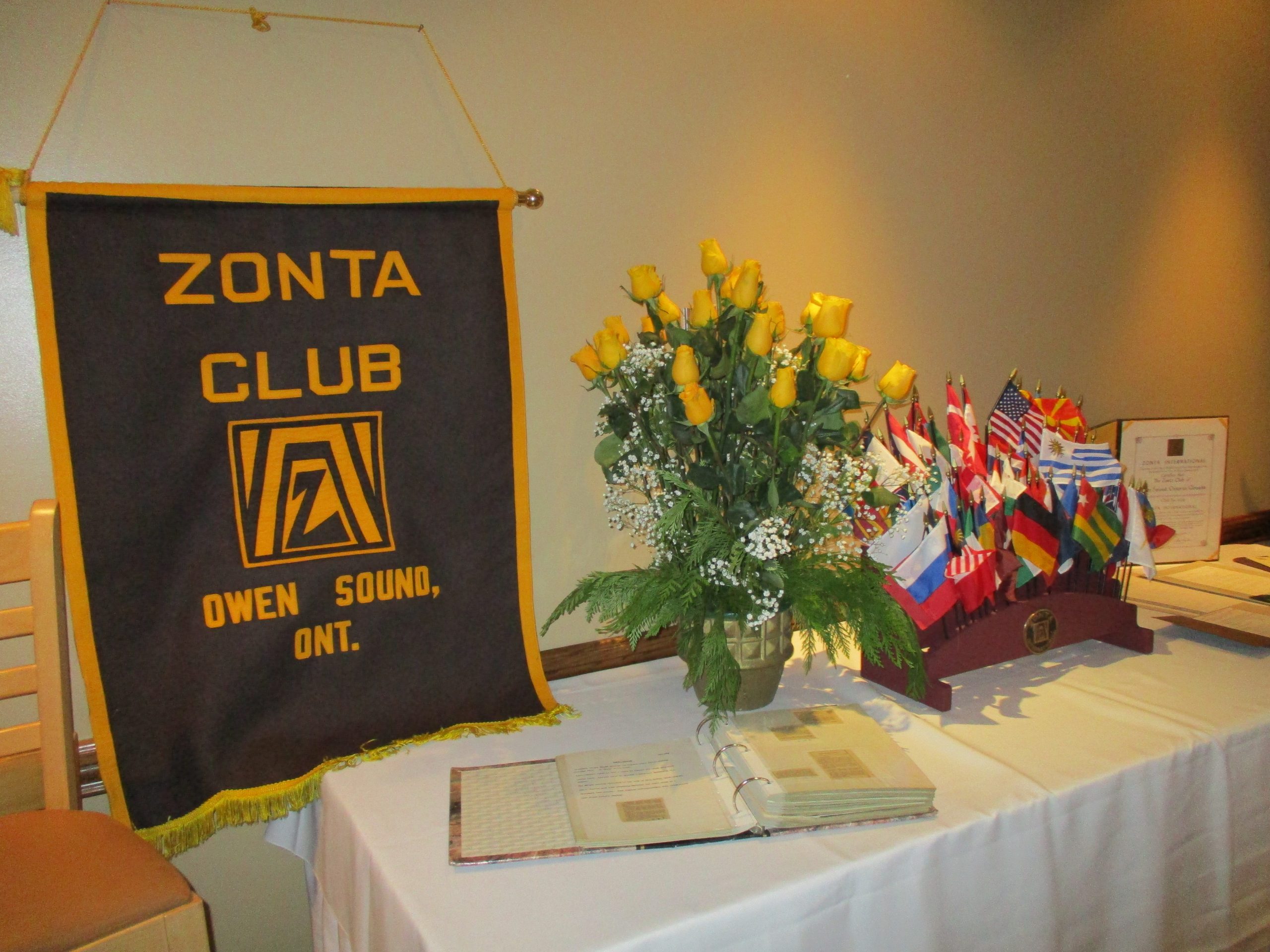 First Dinner Meeting in September 2022
Installation of New Officers:      President – Barb Fedy
                                                                               Vice-President – Judy Suke
                                                                       Secretary – Sandy Stevenson
                                                                       Treasurer – Ann Dumyn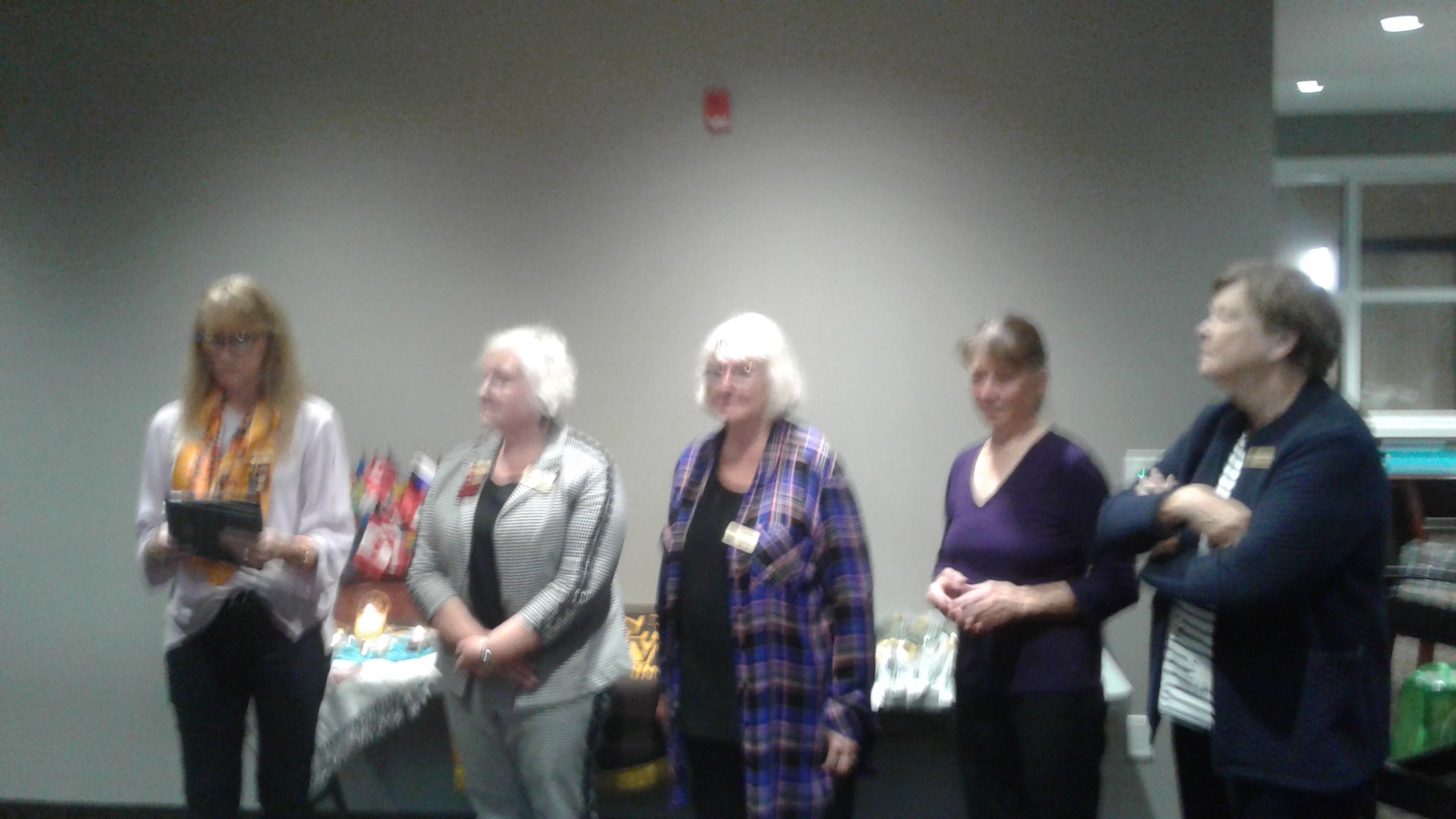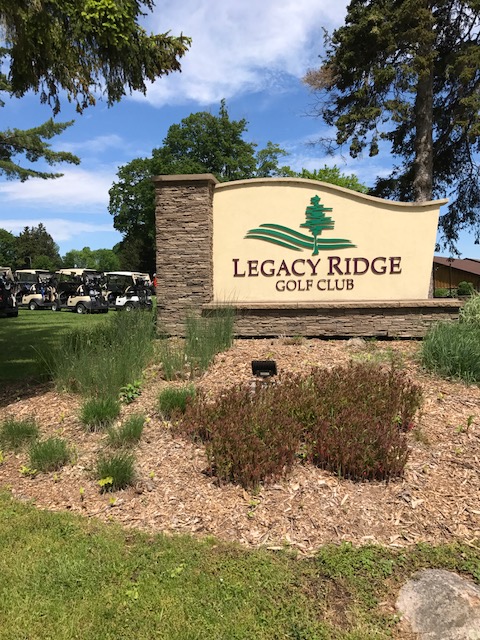 Ladies Charity Golf Tournament 
Thank you to everyone who made our 2022 Golf Tournament a success on June 17.
Next Tournament
Thursday June 15, 2023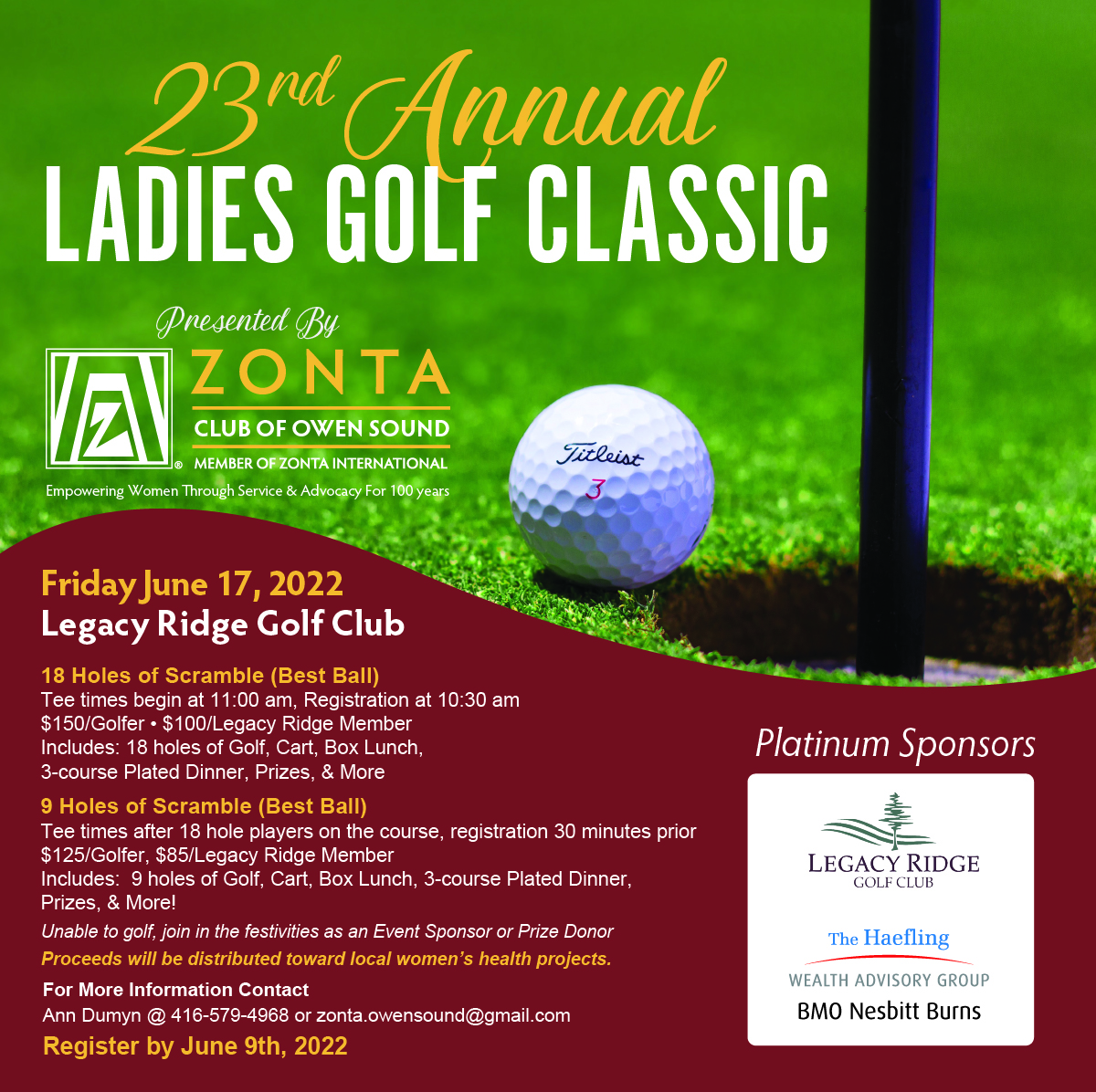 In The News
On November 25, 2021 the members of the Zonta Club of Owen Sound raised their flag at City Hall to let the community know they support women everywhere and they say NO to violence against women. 
President Arlene Wright Addressed the group. Craig S. Ambrose, Chief of Police, and Travis Dodd, City Councilor, both expressed appreciation for the work that Zonta does in the community.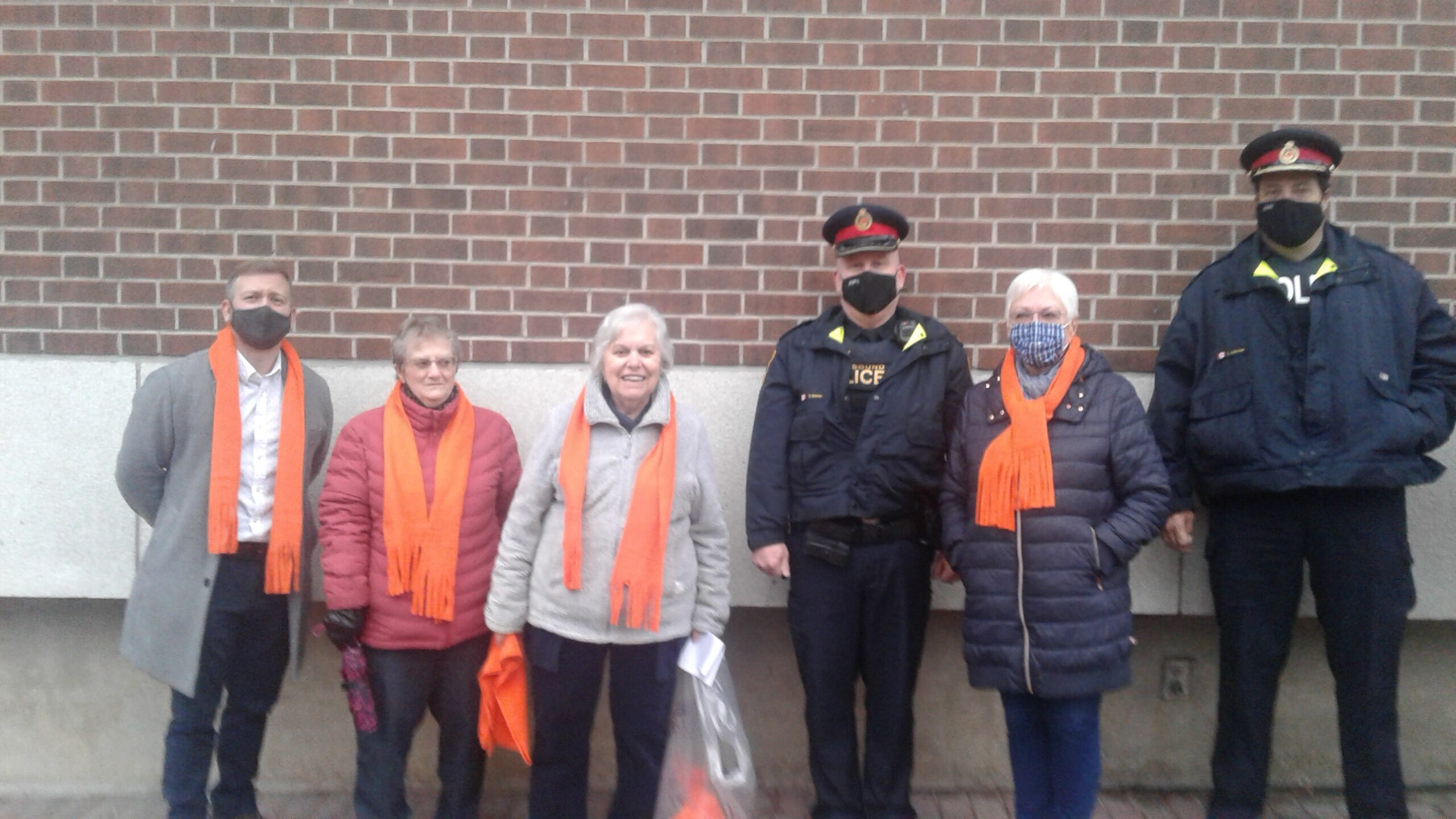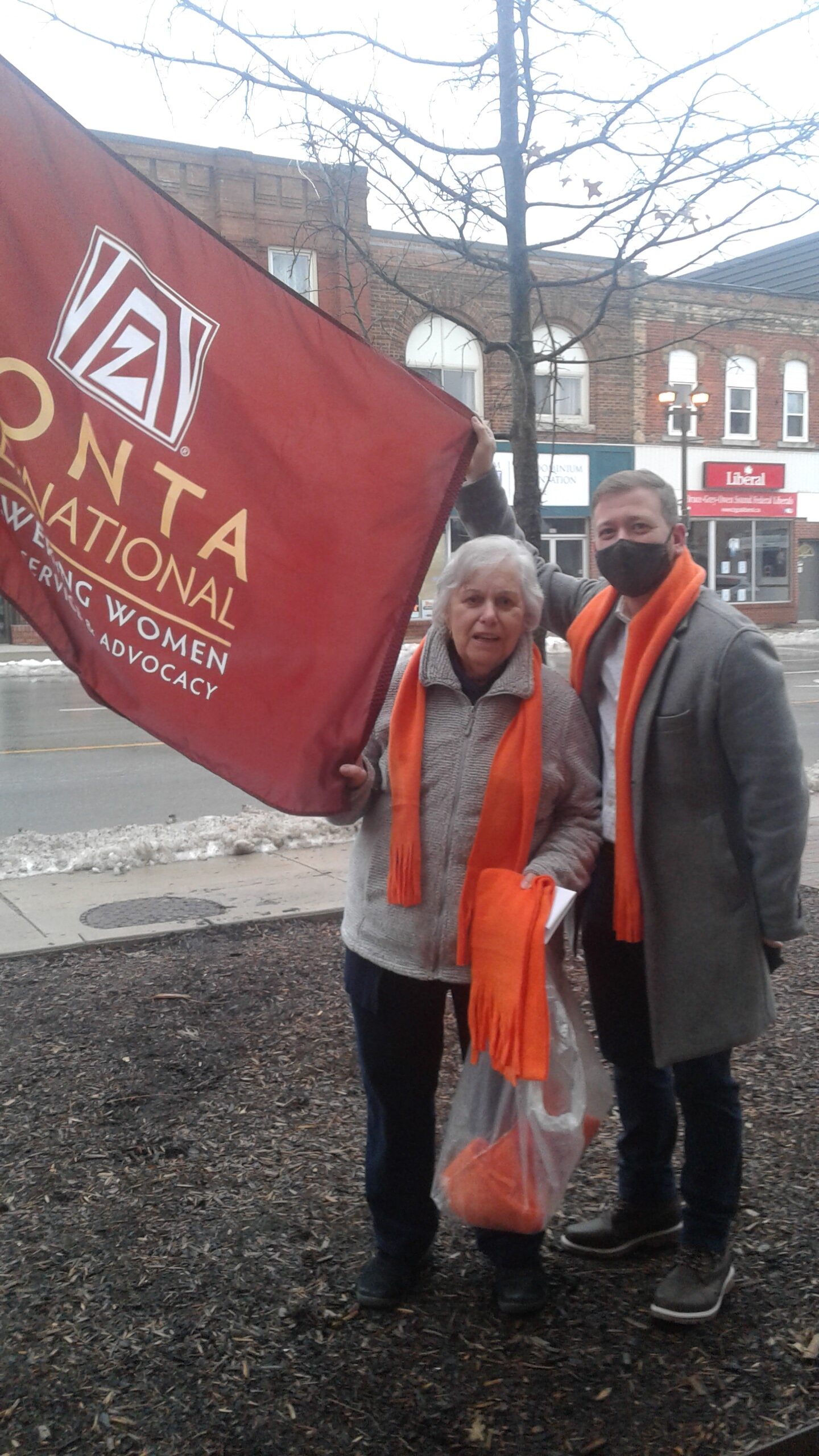 On October 20th, 2021, we celebrated our 35th Anniversary of our Zonta Club in Owen Sound. Pictured below (centre picture) are two of the founding members: Eleanor Tannahill and Arlene Wright.